When me and my boyfriend talked about baying a kitten we never thought that it could be someone with so much character like she have, and funny!
That day I was not working and I have been going trough the Loot magazine all
Day and it was either to far for me to travel or they did not have any left!
But I was lucky later on with a man who had two left, one girl and one boy.
Because I am a little bit naive and I thought that "Sophe" ware about 10-12 week's so I never asked him on the phone before how old she was, but when I came there I found out that she was only 5 week's which is to young to take a kitten from its mother because it need the mother's milk and learn how to play and be taught how to behave from her mother, but as I sat there I started to think that if I don't take her someone else will and maybe it will not be a nice person as me.
So when I went there 8 o'clock and we talked for a while and I ordered a taxi because I did not have a car and no box for her to take her in, so I wrapped her in my jacket and went off.
I came home around 9pm and she ware so scared, but she calmed down after 10-15 minutes and she ware sleeping until 2-3am and then she called me, I had to comfort her for a while and then she felled a sleep again.
The next day I noticed that She had fleas and they have been biting her a lot, she had fleas all over her even in her ears, I felt so angry so I said to myself that if I ever get an http://address I will try to tell people not to give the kittens away to early as they need there mother and littermates to much.
They my look cute and not so needed to there mother at the time put is only because they feel safe as they are "home".
And after they been taking from there mother they starting to have this strange habits
of sucking on thins and drooling, and it looks like you can't leave them alone either.
No, please let the kitten at least be with there mother until they are 10-12 week's old.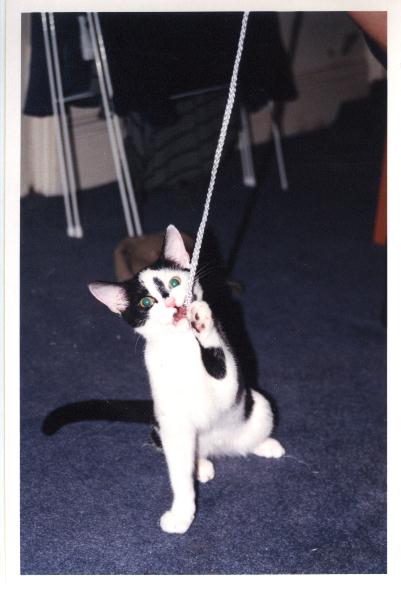 When I saw this picture I thought of Sophe stright away.
Because she thinking she is the "one" in the house sometime, and she is testing all the time which is normal in a way, but she really think she is the boss.
But she do know when to stop, all it need is alittle bit of water.